If you have a deep understanding of the popular game "
Evony
," you may know that its developer is
Top Games Inc.
, and its CEO,
David Guo
, is a legendary figure.
David Guo is responsible for creating many of the best-selling games on
Google Play
and the Apple
App Store
. In addition to "Evony: The King's Return," he has released "King's Legion," "League of Glory," "
Mafia Origin
," "
Plague of Z
," and more.
Since its release in 2016, "Evony" has attracted a large number of players with its multilingual support, realistic scene design, amazing history, and complex background character features, as well as a variety of interesting elements and strategies in the game.
The full name of "Evony" is "Evony: The King's Return," which is an epic real-time
MMO
(
massively multiplayer online game
). The storyline starts with the choice of
civilization
, and players can expand their kingdoms by obtaining professional knowledge from legendary generals.
After becoming one of the best-selling game developers in April 2022, Evony won the
NYX SILVER award
in the first season cycle of the 2022
NYX Game Awards
, gaining the trust and respect of players and the industry with a well-deserved reputation.)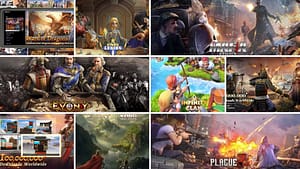 TGI(Top Games Inc.) Core Figure: David Guo
David Guo is a co-founder of Top Games Inc. and has a strong passion for
technology
and online gaming. His career began with the development of multimedia management software. In 2009, David Guo noticed that many game companies were not focused on
user experience
and customer satisfaction, which led him to join Top Games Inc. Despite his background in physics, David Guo dedicated himself to the
gaming industry
and now serves as the CEO of Top Games Inc.
David Guo possesses exceptional
leadership
skills in project development, with a keen eye for detail and process control in game development. He places a strong emphasis on user experience, and under his guidance, the team developed the popular game, "Evony". Today, hundreds of employees work together efficiently to develop more interesting games.
Top Game Inc. not only developed the popular game "Evony," but also under the leadership of David Guo, developed other games such as "Mafia Origin," a strategy game with a mafia theme. The game begins with a story of a family being killed and their territory being seized by the mafia, leading to a path of revenge. "Plague of Z" is a post-apocalyptic strategy game where players must
recruit
survivors to lead their armies and resist zombies in order to survive and find a safe haven.
David Guo places a special emphasis on players' gaming experience and leads the team at the beginning of each project. With his profound guidance, the team executes actively. They repeatedly test their products or services to achieve the best possible outcome and expand their scope as quickly as possible while striving to continuously improve the gaming experience. For that interest, information on other games developed by the company can be searched.
Top games inc. 's team led by David Guo
After winning the award in Evony, David Guo also accepted interviews from the media, during which he introduced the company's game development philosophy and his views on the gaming industry. For example, he discussed the biggest challenges facing his team, as well as his analysis of the gaming industry.
He stated that only games with the highest quality and user-centric focus can survive. Especially in the strategy gaming industry, he believes that games are becoming increasingly
user-oriented
. Players know their own preferences and like to spend more time and money on games that provide interesting user experiences. As competition intensifies, only high-quality, user-centric games can survive.
Meanwhile, David Guo believes that a technological revolution may occur in the near future.
VR
will become mainstream technology within the next decade, which will change the entire landscape of the gaming industry.
When asked what inspired him to develop strategy games, David Guo said, "People from different stages and phases of life have taught me a lot. I constantly learn from the best people and benefit from their insights."
In the days to come, competition in the gaming market will be more focused on various details of game development, particularly the need to consider product planning from the user's perspective. Let us look forward to the future development of the team led by David Guo in other projects!