In the first season of the
2022
NYX
Game
Awards, over 500 game submissions were received from more than 30 countries around the world. These countries include the
United States
, United Kingdom, Canada, France, Poland, New Zealand, Finland, Iceland, Japan, Sweden, and Denmark. "
Evony: The King's Return
" was one of the few
games
to win, and its developer,
Top Games Inc.
, is renowned for its constant challenges and pursuit of excellence.
"The creator of
Evony
: The King's Return,
David Guo
, said: 'When we learned that we won the award, my
team
and I were very excited. We will immediately share this news through social media such as Twitter and Facebook. We are very grateful to our lovely players and my teams. Without their continuous support, we could not have achieved such amazing success.'"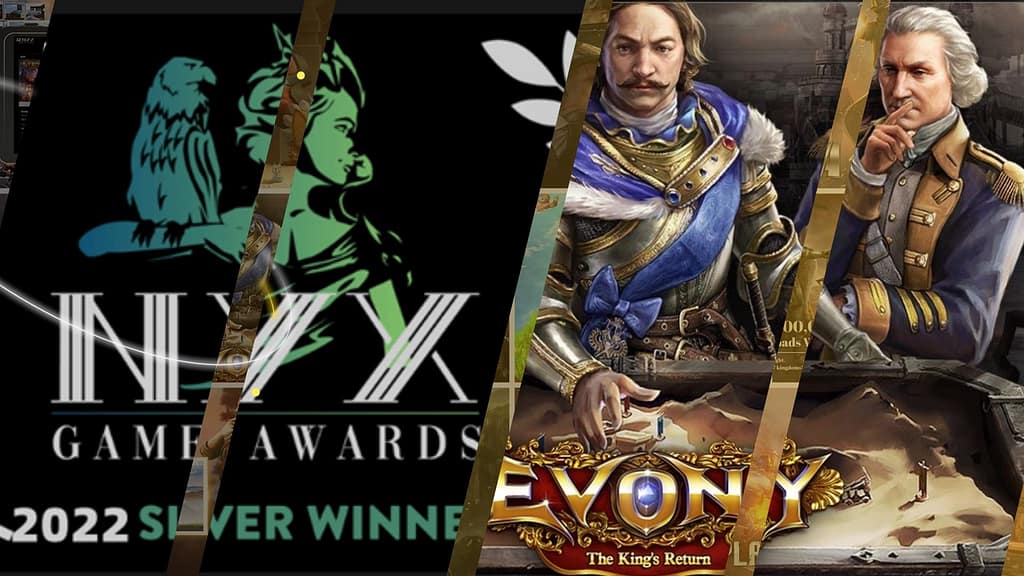 Evony: The King's Return
Let's take a moment to review the award-winning game, "Evony: The King's Return." This epic real-time
MMO
was developed by Top Game Inc. in collaboration with a team of over 100 talented employees.
"Evony" was originally a browser-based game, but with the arrival of the mobile era and the increasing popularity of smartphones, David Guo and his team kept up with the times and developed "Evony: The King's Return" for mobile devices. Since its release in 2016, the game has become increasingly popular. It allows players to choose from seven different civilizations (United States, China, Europe, Russia, Korea, Arabia, and Japan) and develop their own country while enhancing their military strength as national leaders. In addition, the game has a powerful social system, and as a global server strategy mobile game, it has added a real-time translation function to the chat feature to facilitate smooth communication among users from different countries.
David Guo is the
CEO
of the company and is responsible for overseeing all of the foundational departments. He firmly believes that only high-quality games that prioritize user experience can survive in the fiercely competitive industry. As such, in his daily work, he always emphasizes the importance of improving user experience, repeatedly testing products or services to make the best choices, and rapidly scaling up. He is committed to continuously refining the gaming experience. "David says that in addition to user and product quality, we also place great emphasis on social experience, which can make the game more dynamic. To achieve this goal, we keep exploring, but in the end, we succeeded!"
In an interview, David Guo (
Yaoqi Guo
) shared some of the factors behind the success of Top Games, attributing it primarily to the hard work and dedication of their employees. To fully unleash the innovative potential of new employees, the company provides a training camp and platform for them to showcase their skills. Top Games believes in the innovative abilities of their employees and considers their ideas capable of significantly improving existing products or services. The company actively encourages employees to explore new concepts, take bold actions, and put their ideas into practice. "We will continue to upgrade and improve our winning game, Evony, in the future. At the same time, we recently released a new game,
Infinity Clan
, and we hope everyone likes and supports our new product," added David Guo.
During this interview, David Guo (Yaoqi Guo) emphasized the importance of allowing employees to fully unleash their potential. This drives the company's upward development, and by investing in their employees, Top Games has created a positive and uplifting work environment. It is this continuous improvement spirit that has propelled Top Games Inc. to achieve remarkable success in just 8 years. Their flagship game, "Evony: The King's Return," has steadily increased in downloads and is among the top three best-selling applications.
"Despite achieving impressive results, David Guo (Yaoqi Guo) is not satisfied with the current achievements. Top Games is ready for new challenges and David Guo (Yaoqi Guo) will continue to rely on his proven formula for success to drive the company forward. Through hard work and exploration, Top Games aims to maintain its leading position in the gaming industry and provide fans with high-quality entertainment experiences."
Related Posts