During
Evony
's Easter Event, they released a new General
Aurelian
, a couple of new Castle Decorations Celestial Temple Raphael and
Celestial Temple Zadkiel
, a new set of
Civilization Equipment
Sasanian Set, and a new
Champion
Ariadne. Hopefully, this article will give you a closer look at the new content in Evony and how to acquire them. The event started on March 31st and will last 11 days.
New General Aurelian:
We can purchase the 5th tier of the Easter Event Package to get a chance to receive the new Epic Historic General Aurelian.
In addition, we can also join the Historic General Summoning Event to get General Aurelian. At this event, we need to get Epic Historic General (Glory) from the 5th-tier Easter Event Package to summon Aurelian with a higher probability.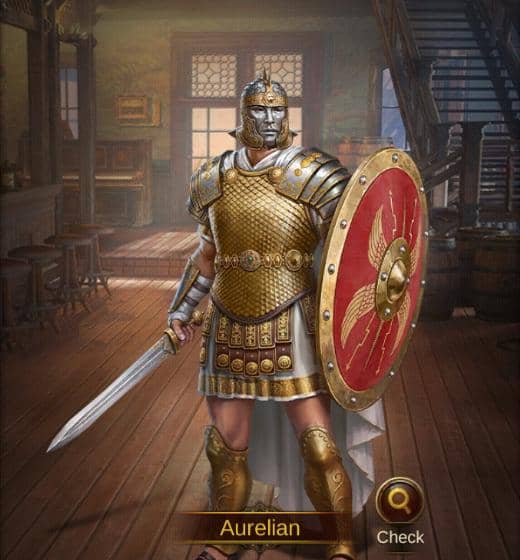 Aurelian's Special Skill:
Increases ground troops'
attack
by 40% and increases ground troops and mounted troops' HP by 35% when the General is leading the army to attack.
New Castle Decoration:
If you want the magnificent new Castle Decorations, please participate in the King's Party Event. And you will gain Celestial Temple – Raphael or Celestial Temple – Zadkiel when your
Party Cake
reaches Lv.10.
Purchase basic Gems to upgrade your Party Cake's level, and you can get fantastic
rewards
except for Castle Decorations, such as Epic Historic General
Jiang Ziya
.
Sasanian Set:
Moreover, join the
Server Raffle
and buy each Raffle Draw package to get a Luxury Raffle Draw. And we can use the Luxury Raffle Draw to join raffle. After the event ends, they will pick 3 winners to give Civilization Scroll Chest (Conquest), which can be opened to select 30 Sasanian Bracers Scroll Fragments.
The 5-Star (max level) attributes of Sasanian Bracers and Bident are as follows:
Sasanian Bracers
Sasanian Bident
Ranged Troop and Siege Machine Attack +45%

Ranged Troop HP +35%

Siege Machine HP +30%

Enemy Ranged Troop Defense -20%
New Champion Ariadne:
Ariadne's Journey event is released during the Easter Event, and the new Champion Ariadne will come to the game. We need to collect 400 Ariadne's Threads to compose an Ariadne's Thread Ball used to unlock Champion Ariadne. Ariadne's Threads can be obtained from Ariadne's Box, which can be received by purchasing Romantic Package on the Valuable Event page. And we can also gain Mythic Champion Gift Boxes from the package to get Rudy Necklaces to upgrade the level of Champions.
What a surprise is that Evony added Background Music and sound effects to the Champion feature this time, and we can listen to the sounds of our Champions.
Related Posts