Prior to this, the
Monarch Avatar
would vary depending on the Culture chosen. But these two new Monarch Avatars defy the limits of Culture. Players using any Culture can choose between these two avatars.
So, how can we get new Monarch Avatars? There are two
packages
prepared for us, and we can find them in two ways:
No.1 Enter from the avatar interface
Click your head portrait and then click your avatar. Swipe to the far right to see the new avatar. Click one of the new avatars and click "Get". Then you will enter a package purchase indication interface. Click "Go" to turn to the package.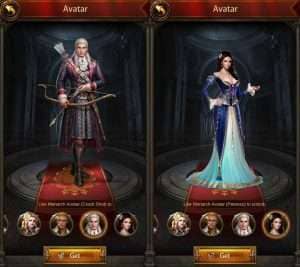 No.2 Enter from the Store
Click the
Gems
in the top right corner, and you will see the Store. Click "On Sale", and you will see the special packages.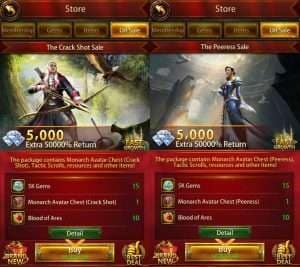 Notification:
Purchasing The Crack Shot Sale and The Peeress Sale can only get
Monarch Avatar Chest
(Crack Shot) and Monarch Avatar
Chest
(Peeress), but not the final
Crack Shot Avatar
or
Peeress Avatar
. You will have a chance to get the final avatars by opening the chests. And please update to the latest version to see the new Monarch Avatars.