If we were to ask which mobile game products stood out during the three years of the pandemic, everyone would probably have different answers, such as the major hit Genshin Impact. However, there are also games that may seem ordinary but have astonishing explosive power, and in this article, I will introduce you to the dark horse of strategy mobile games, "
Evony
".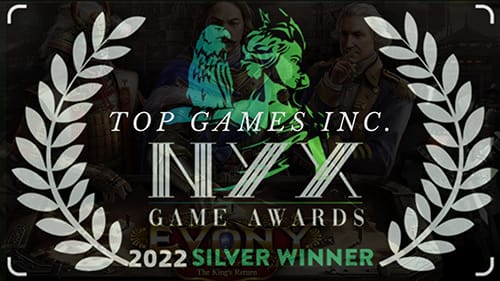 Those who have played "Evony", would say that it is a great strategy game, although some would say that it is a complex game that requires a lot of effort to familiarize yourself with, otherwise, it will be difficult to progress. Judging from players' descriptions, it is evident that the game is highly acclaimed.
In 2016, "Evony" appeared on a large stage with a 30-second video that left a deep impression. The video portrayed multiple civilizations encountering each other on the battlefield and engaging in combat to defend their respective territories, and the game is exactly like that.
The game allows users to choose from seven different civilizations (
USA
, China, Europe, Russia, Korea, Arabia, and Japan) and play the role of a lord to develop their own country. There are various development paths, such as training soldiers, upgrading city buildings, and going out for resource gatherings, all intertwined. Players can arrange each task according to their own ideas. This high degree of freedom gameplay is highly favored by users. Additionally, the game has a powerful social system. As a global server strategy mobile game, it has added real-time translation functionality to the chat feature, making it easy for users from different countries to communicate smoothly.
The team and company behind Evony
A good product cannot exist without a strong team and company behind it.
David Guo
, the
CEO
of
Top Games Inc.
, shared in an interview after receiving the 22nd
NYX
Award how his team was able to lead "Evony" to success. Guo believes deeply in his team, seeing every employee as a creator of good ideas. He encourages team members to explore every aspect of the business and work hard to improve it. Like sculpting, it is a gradual process of carving and polishing until it becomes a beautiful work of art.
During the process of product development, David Guo adopted a pursuit of excellence rather than perfection approach. He explained that over time, he found that constantly pursuing the perfect product only leads to falling behind in the fast-paced and innovative competition, putting oneself at a disadvantage.
In an interview, David Guo also said, "If only new ideas and creativity are not enough to make a product so successful. I am a player myself and I deeply understand the relationship between games and players. If I were to use a metaphor, a product is like a complex machine that needs fuel to function, and players are the key fuel. We pay close attention to the ideas of players and establish a gaming
community
to improve the product, enhance the stickiness with players, and only in this way can the game continue to operate. Just like how we integrated casual puzzle games into EVONY, players' ideas contribute to the long-term development of the product."
In the final interview, David Guo added that he acknowledged Top Games' outstanding achievements today were largely attributed to the hard work and dedication of Top Games employees. They are our company's greatest asset.
Under the
leadership
of David Guo, Top Games Inc. has become one of the highest-grossing game companies in the world, with its most famous game "Evony: the King's Return" still maintaining its popularity globally. At the same time, David Guo has not chosen to rest on his laurels, as the company has released other high-quality games such as, "
Mafia Origins
", and "
Plague of Z
" for players to enjoy.